EBB 29 :
Thai Cooking Class (Minimum 1 pax-Maximum 10 pax)
Rate : Baht 1,800 per person / Validity from Now - 31 Oct 09

Pickup Time : 08.30

Duration : Half-day cooking class morning : 09.30-13:30 or afternoon : 13:30-17:30

or

Baipai Thai Cooking School
Course / Price
1 Day / Baht 1,800
2 Days / Baht 3,500
3 Days / Baht 5,200
4 Days / Baht 7,000
Remark :
- Class conducted in English by Thai professional
- Small class size from 1-11 people per class
- Completely hands-on cooking experience, one student per one cooking station
- Inclusive of pick-up from / to hotels in centre Bangkok
| | |
| --- | --- |
| | |
Details :
There is no better way to learn Thai cooking once you are in Thailand and taking a Thai cooking class, taught by qualified Thai personnel.

The Cooking Courses at Baipai Thai Cooking School is an ideal home-style learning environment that is different from most of the hotels and restaurants in Thailand. Thinking of taking a class on the last day of your stay, Baipai Thai Cooking School can eventually wrap up your journey to Thailand wonderfully.

The cooking station is specially designed, and fully equipped to suit and cater for individual student. All classes are small size, never more than 10 to ensure adequate personalize attention.

The school offers a wide variety of day cooking classes from 1-5 days. The 4 hours class, featuring 4 food items is held on Tuesday-Sunday, 09.30 am-1.30 pm. School is closed on Monday and National Public holidays, however "Special Requests Class/Workshop can be held if there are enough numbers of attendant. All classes include recipes and generous samplings of demonstrated items.
| | |
| --- | --- |
| | |
Location Map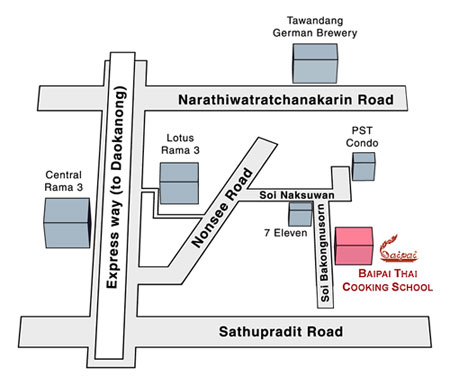 The menus : There are 5 set of menu running circularly between the 6 operational days. The menu will be changed from time to time. However, the dishes can be arranged upon your requests for special cooking class. Followings are the details of the 5 set menus :

Set 1 :
• Chicken Satay (Gai Satay)
• Savory Prawn'n Herb Salad (Plah Goong)
• Stir-fry Chicken'n Cashew nuts (Gai Pad Med Ma-mouang)
• Coconut Sticky Rice with Mango (Khao Neaw Moon)

Set 2 :
• Golden Bag filled with Tasty Combination (Toong Thong)
• Pa-nang Curry with Chicken (Pa-nang Gai)
• Hot'n Sour Prawn Soup (Tom Yam Goong)
• Thai Fried Rice with Park (Khao Pad Moo)

Set 3 :
• Crispy Rice Cracker with Thai style topping (Khao Tang Nah Tang)
• Pomclo Salad (Yam Som-O)
• Masaman Curry with Chicken (Gang Mas-sa-man Gai)
• Stir-fried Chicken with Basil Leaves (Pad Kra-Pao Gai)

Set 4 :
• Spring Rolls (Por Peea Todd)
• Spicy Grilled Beef Salad (Yam Neua Yang)
• Green Curry Chicken (Gang Keaw Wann Gai)
• Egg Custard (Sang Ka Ya)

Set 5 :
• Crispy Golden Cup with Tasty Fillings (Kra-tong Thong)
• Glass Noodles Salad (Yam Woon Sen)
• Stir-fried Beef'n Chili (Nuea Pad Prik)
• Yellow Curry with Chicken (Gang Ka-ree Gai)

Set 6 :
• Fish Cake (Tod Man Pla)
• Chicken'n Galangal in Coconut Milk Soup (Tom Kha Gai)
• Thai Style Fried Rice Noodle (Gouay Teaw Pad Thai)
• Water Chestnut in Coconut Milk (Tab Tim Grobb)

Set 7 :
• Chicken in Pandanus Leaf (Gai Hor Bai Toey)
• Papaya Salad (Som Tam)
• Prawn in Tamarind Sauce (Goong Sauce Ma Kham)
• Roasted Duck in Red Curry (Gang Phed Ped Yang)

*School reserves the right to change any dishes without prior notice if necessary*
- - - Terms & Conditions - - -
Booking :
- Any purchase made through the website, bookings have to be made in advance

Payment :
- Full prepayment is required either by credit card (Visa, Master, JCB) or bank transfer

Cancellation Policy :
- If written notification of cancellation (by email or facsimile) received after payment has been done or 1 working day (Not including Sat, Sun & Public Holiday) prior to departure, there will be no cancellation charge except credit card processing fee
- In case of No Show : non-refundable