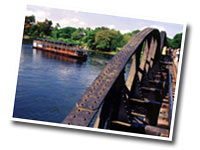 Welcome to The RV River Kwai, the first inland cruise ship in Thailand, is a newly built colonial style river cruiser based on designs used by the original Irrawaddy Flotilla which was founded in Burma in 1865 and by the 1920s was the largest privately owned fleet of ships in the world.

The RV River Kwai carries a maximum of 20 passengers in 10 teakwood cabins (single deck) and operates on a 4 days/3 nights year round program every Monday-Thursday and Thursday-Sunday on both Upstream and Downstream programs alternatively.

The RV River Kwai opens up an entirely new area for river tourism in Kanchanaburi province west of Bangkok. Every morning and afternoon land excursions are offered to visit attractions along the river including temples, historic sites, Khmer ruins, waterfalls, war cemeteries, hot springs, the bridge on the River Kwai, and local attractions, etc.

Choose from the following Exclusive Cruise Programs
- 4 Days/3 Nights RV RIVER KWAI CRUISE (Upstream) : Booking Now
- 4 Days/3 Nights RV RIVER KWAI CRUISE (Downstream) : Booking Now
- 7 Days/6 Nights RV RIVER KWAI CRUISE: Booking Now

Specifications of the Vessel :
The RV River Kwai is an inland water class vessel, with the following specifications:
- Length 120 ft / 36 m
- Beam 25 ft / 7.6m
- Draft 3ft / 90cm
- Air Draft 11.5ft / 3.5m
- Tonnage 155.69 tons
- Engines 2 x 200 hp Hino engines with inboard propulsion; propellers have 4 blades, 3ft diameter
- Speed 8 knots cruising
- Power 1 x 75kva Caterpillar (recon) genset, 1 x 20 kva port/emergency genset, shore lines to bases on river.
- Cabins 10 deluxe staterooms of 3m x 4m with own shower, water closet, air-conditioned, mini safes, etc.
- Public Space Upper deck is open plan with dining, bar and seating areas covered by a collapsible frame awning to enable vessel to pass under low bridges
- Water supply Water tanks
- Sewage Holding tanks to pump out to on shore septic facility
- Communication Thai GSM cellular, FM Radios, PA system, tannoy
- Safety Smoke detectors in all cabins, emergency lighting and generator, fire extinguishers, pumps and hoses, life - jackets for all passengers, life rafts, ship's motorized tugboat
- Navigation Ship's horn, searchlights, Garmin GPS (Global Positioning System)
- Amenities Fully equipped kitchen, refrigeration units
- Crew All Thai nationals ; captain, engineer, deck hands, stewards, cruise director, tourguide, chef. please click here to preview more detail package...