EBB 36 : Chao Phraya Princess Dinner Cruise

Rate : Baht 1,100 per person / Validity from Now - 31 Oct 08
Rate : Baht 900 per child (under 12)

Pickup Time : 18:30 - 18:50

Duration : 19:30 - 21:45 Daily

or


Included on the price :
- Thai & International Buffet on board of Chao Phraya Princess Cruise
- Welcome drink fruit cocktail
- Live music band
- Snacks (Peanuts & Potato Chips)
- Refreshments with coffee or tea

Tour Program :
19:30 Check in at River City Pier. Out Staff will be welcoming you there for check in.

19:45 Departure from River City's Pier by Chao Phraya Princess Cruise for a beautiful night scenery on Both side of the Chao Phraya River. While having your " Welcome Drink Fruit Cocktail " Our Saxophone will entertain you with a romantic music. Our captain will be sailing the boat up to Rama 8 Bridge and then, you will have a unique Opportunity to take a beautiful snapshots of two "Wonders by night" in Bangkok Wat Arun (The Temple of Down) and Wat Pra Kaew (The Grand Palace)

20:00 Time for you dinner under the candle light with "Live music" in a romantic atmosphere a taste of our International Buffet elegantly arrange from appetizer to main course and ending deserts to your dining satisfaction. Our musian & Singer will entertaining you with a repertoire that ties the East to west and swings ti the Latin beat on our disco floor.

21:45 Arrive at River City. We hope you enjoyed an exciting and memorable evening cruise on board our Chao Phraya Princess Cruise. Thank you very much ! We hope to see you again ....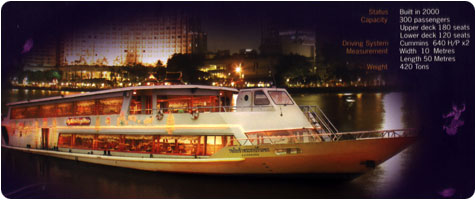 Royal Chao Phraya Princess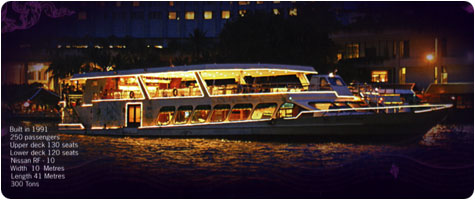 Chao Phraya Princesss I
Chao Phraya Princesss II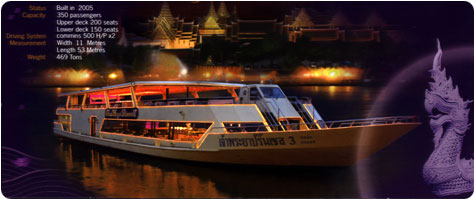 Chao Phraya Princesss III
Image :
Brochure www.thaicruise.com
Chao Phraya Princess Cruise Menu :
Internaional Buffet Menu :
Shu Shi, Spicy Glass-Noodle Salad with Seafood, Papaya Salad, Tuna Salad, Kim-Chi, Cold-Cut, Tonato and Mushroom Soup

Salad Bar :
Salad Bar 6 Different

Soup :
Spicy Shrimp Soup, Mushroom Cream Soup

Hot Dish :
Baked surf Clam with Cheese, Grilled Saba Fish with Soya Sauce, Deep Fried Chicken, Pork in Red Curry, Seafood Gartined with Cream Sauce, Beef Tenderloin Steak, Baked Shrimp with Salt, German Sausage, Fried Mixed Vegetable, Mash Potato, Spaghetti Meat Sauce, Stir-Fried Squid W/Basil Leaves, Fried Noodle Thai Style, Fried Rice Tristar Style, Steamed Rice

Desert :
Mixed Fruit in Season, Pasty
( Chao Phraya Princess Route to Diner )
- - - Terms & Conditions - - -
Transport :
- Air-conditioned minibus (van) is used for journey

Booking :
- Any purchase made through the website, bookings have to be made in advance

Payment :
- Full prepayment is required either by credit card (Visa, Master, JCB) or bank transfer

Cancellation Policy :
- If written notification of cancellation (by email or facsimile) received after payment has been done or 1 working day (Not including Sat, Sun & Public Holiday) prior to departure, there will be no cancellation charge except credit card processing fee
- In case of No Show : non-refundable