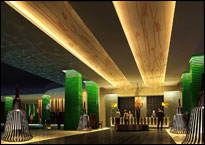 199, Rat-Uthit 200 Pee Road,
Patong, Kathu, Phuket 83150
This five-star resort is set in lush tropical landscaping within an urban environment. Consisting of two wings, the Beachside and the Lakeside, the 197 and 224 rooms are furnished in rustic resort charm.

Located in Phuket's main tourist area makes it a perfect getaway destination for the holidaymaker while its complete facilities serve corporate travellers as well.