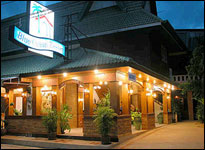 210/23 Soi Kepsap, 200 Pee Ratuthit Rd., Patong Beach
Blue Ocean Resort is located in Patong Beach, famous for it's vast variety of shopping venues & restaurants, it's vibrant night life and the endless water sport activities.

Phuket offers lush tropical vegetation, crystal clear waters and white sandy beaches, making it perhaps one of the world's most beautiful islands with natural perfection.

In spite of being centrally located and less than 5 minutes walk to the beach, the resort is quiet and peaceful and veiled from active daily life.