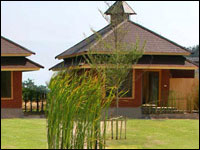 130/1 Chaiyapruk Rd., down to Jomtien Beach
Not far from downtown Pattaya, on rustic Chaiyapruk Road, is a new concept in upmarket lodging. Eravana Resort is a departure from the boxed-in, claustrophobic kind of accommodation that other hotels and resorts provide. Nor is it a sky-high type of lodging found in posh condos and serviced apartments.

There is a new and unique resort and spa in Jomtien. This resort and spa will appeal to the people who want peace and quiet in a pure, clean and natural environment. This is the villa at "Eravana Resort and the Era Spa." From the ground up, this resort is built with pure nature in mind. The pools, villas, walls are made of natural soil clay bricks. The walls and interior décor is stained naturally. There are very little paint or chemicals to pollute the environment. The villas are pure and simple but elegance in design. The environment has a sensual feeling of nature. The lighting is from the sun, moon and stars. The air is scented by the flowers with a hint of the sea. This is sensual living.