Ao Nang Beach, Krabi Information by E-Biz Travel; Thailand Travel and Accommodations Service
Ao Nang Beach
How to get there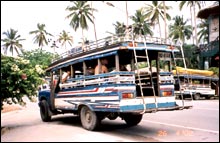 Local minibuses leave from outside the Seven Eleven store on Maharaj Road every 15 minutes, from 07:00 until 17:30; and go to Ao Nang, Noppharat Beach and The Shell Cemetery Beach. Journeys take about 40 minutes and cost about Baht 20 per person, each way.
Prominent point
Ao Nang is not big but it has white beach, shallow coral, paddling kayak. The end of beach, you will see Tham Phra Nang up hill, view points show the bend of seawater, drop in san Phra Nang which is Tham-mouthed. The foreigners take yachts to stop from keeping off the wind at Ao Nang. Nearby you can take a short way to Ao Rai Lay for climbing mountain.
Suitable season
All year round, especially during November-April weather is bright and clear with beautiful sea.
Thailand Tourism,
Information on Thailand
and
Accommodation Thailand
, travel guide about major city in Thailand; Krabi & Phi Phi Island, List of
Thailand Hotels & Thailand Resorts
when you travel
Krabi & Phi Phi Island
Your
Bangkok travel guide
, lots of information for
Bangkok travel
&
discounted hotels in Bangkok
WE LOVE GOOGLE