ranking among the most beautiful dive sites of the world, are composed of nine islands containing a great variety of dive spots with different characteristics, such as :

Fantasy Reef is composed of three submerged rock formations where you can find yellow corallines and soft corals, colourful angels, bat fish, whale sharks and manta rays. Christmas Point provides challenging swim-through among the rocks and is home of Christmas tree worms. Orchid Nursery Rocks with a lot of corallines and artistic rock formations have a coral reef sloping down into the deeper sea. Skull Rocks offer plenty of colourful soft corals in different shapes like cups, brains, and tables. The Lone Rock is a dive spot where only one big rock is located with a dive scene ideal for taking photographs.

Tachai Island provides a large group of rocks to the south of the island where whale sharks and manta rays, barracudas, yellow backs, fusiliers, and green damsels can be seen.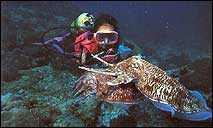 Surin Islands is a marine national park. It has diverse coral which attracts exotic species of marine life. Ideal for divers and snorkellers to catch sight of the ghost pipe fish and frog fish.
Richelieu Rocks is considered a world-class dive site with the widest diversity of marine life including whale sharks which are so tame as to let visitors take photographs of them easily.
Mu Sang Rocks can be reached from Phuket. The rocks are covered by soft pink corals. They are known as Phuket Shark Point because there are tame leopard sharks living there.
Koh Racha Yai & Koh Racha Noi are twin islands. The larger Ko Racha Yai offers colonies of hard corals and tropical marine life, especially octopi, cuttlefish and false barracudas. Dive sites of the smaller Ko Racha Noi feature larger fish and mammals.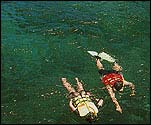 Phi Phi Islands consisting of Phi Phi Don and Phi Phi Le islands have attracted divers from all over the world due to their spectacular dive scenery featuring a wide assortment of marine life, numerous walls caverns, caves, coral gardens, and sloping reefs.
Hin Daeng is one of the best dive spots of the lower part of the Andaman Sea. It rises three metres out of water with barracudas and needle fish around there. Divers may also encounter whale sharks and manta rays. This is perhaps the only dive site in Thailand where grey reef sharks are often sighted.
Hin Muang features a series of six or more submerged pinnacles. It provides the deepest drop-off in Thailand. Large pelagics including barracuda, tuna, whale sharks, and large stingrays are sighted.
Ranong Islands in the sea off Ranong Province offer favourite spots for snorkellers. Divers can enjoy viewing the coral reefs around a boulder called Hin Khan Na, only 15 minutes from the coast. Great snorkeling opportunities also lie in the sea of Laem Son, Phayam and Kam Islands.