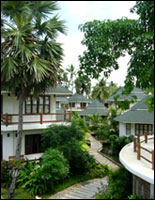 146/7, Paknampran Beach Road,
Tumbon Paknampran
A beautiful small resort, overlooking Pranburi's spectacular Paknampran Bay beach, The Tanao Sri combines the charm of nature with the sophistication of a truly international resort. The views scan across a sweeping stretch of some of the world's finest beaches. Nearer at hand are the Sam Roi Yod Mountains, a national park un-comparable in beauty and nature.

The heart of Hua Hin town is easily accessible by courtesy transport and takes only 25 minutes.

Luxuriously decorated single and two storey villas, set in a lavish tropical garden all looking on to the beach and connected by a walking bridge built over a man made canal.